"Women Providing Healing, Promoting Hope" Discover the women that our members have selected to highlight this year's theme.

#womenshistorymonth2022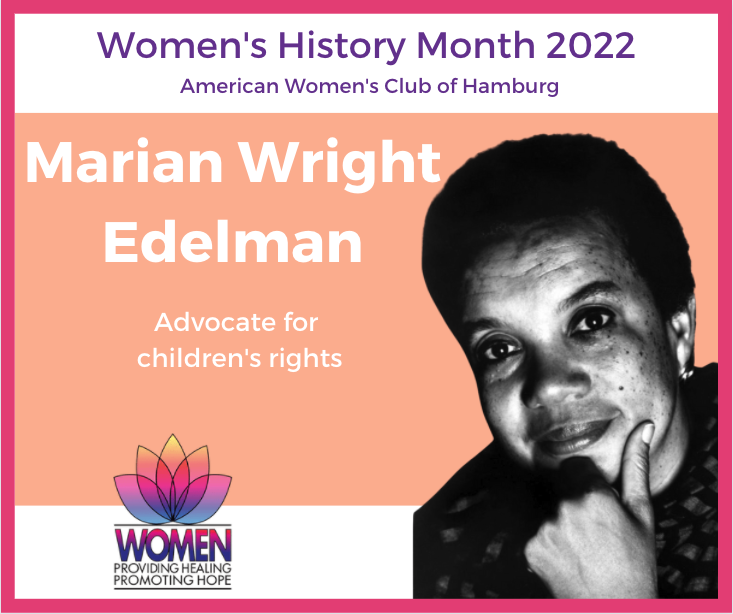 Marian Wright Edelman
Selected and written by Diana P.S.
Marian Wright Edelman might not be an obvious choice for "healing", since she's not a nurse or a doctor or a scientist, but rather a lawyer by training. But Marian's career and life-long dedication to fighting for opportunities and resources for the most vulnerable Americans is a quintessential embodiment of "promoting hope". Marian began her career in the 1960s, as director of the National Association for the Advancement of Colored People's Legal Defense and Educational Fund in Jackson, Mississippi (and she was the first Black woman to be admitted to the Mississippi Bar). In 1968 she worked with Dr. Martin Luther King Jr. to organize the Poor People's Campaign to draw attention to the importance of economic security and access to jobs, fair wages, and education for poor Americans
https://www.awchamburg.org/d91746a8-8407-4cf7-947e-263875732075" width="8" height="14" /> a tenet that went hand-in-hand with advocating for desegregation and voting rights for Black Americans. But the thing Marian is most known for is founding the Children's Defense Fund in 1973. The CDF's mission is to serve as a nationwide advocacy group for children, challenging the United States to raise its standards by improving policies and programs for children that cover health, childcare, education, youth employment, child welfare and mental health, and family support systems. The CDF combines research, policy analysis, and advocacy for all children, but particularly for disadvantaged children and their families. As for Marian, she has also written numerous books and has won pretty much every major American award out there, from a MacArthur Foundation Fellowship to the Presidential Medal of Freedom. Marian is now in her 80s and her legacy of fighting for children has improved the lives of multiple generations of America – generations of children who represent the future, who represent hope.
To read more about Marion and her life-long advocacy for disadvantaged Americans, check out the following sources:
https://www.childrensdefense.org/about/who-we-are/our-history/
https://www.macfound.org/fellows/class-of-1985/marian-wright-edelman
https://www.ted.com/speakers/marian_wright_edelman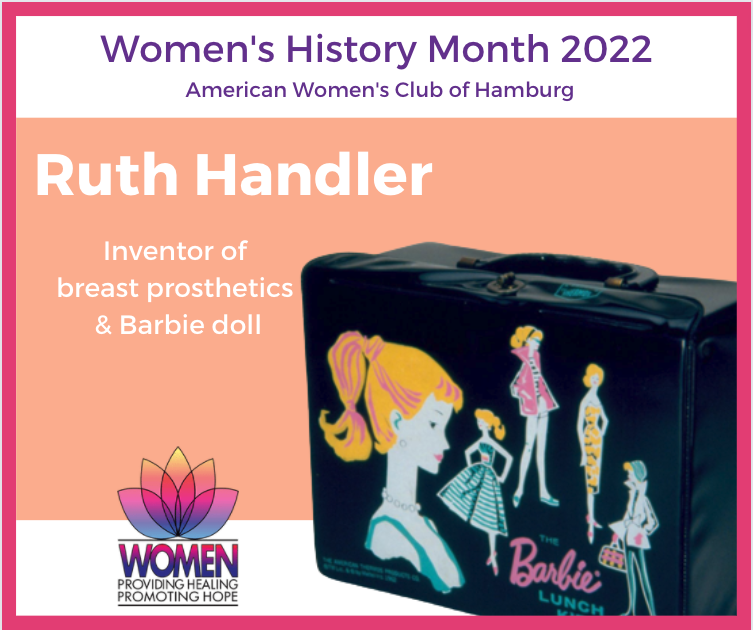 Ruth M. Handler (1879–1966)
Selected and written by Carol H.
Barbie and healing? Yes! Do you know Ruth M. Handler's story? She's best known as the inventor of the Barbie doll, but her most important work may be the prosthetics she designed for survivors of breast cancer. After founding the Mattel toy company with her husband in 1945, Handler left the company in 1974 and started Nearly Me, to develop and sell comfortable breast prosthetics. But even Barbie may have been more important than we think for developing young girls. Although the dolls clearly promoted an unrealistic body shape for woman, Ruth Handler originally conceived the doll as a way for girls to imagine their future selves as adult women, which includes having breasts.
For more information about Ruth Handler see: https://jwa.org/encyclopedia/article/handler-ruth-mosko.
If you want to remember those early Barbie dolls: https://www.youtube.com/watch?v=9hhjjhYGQtY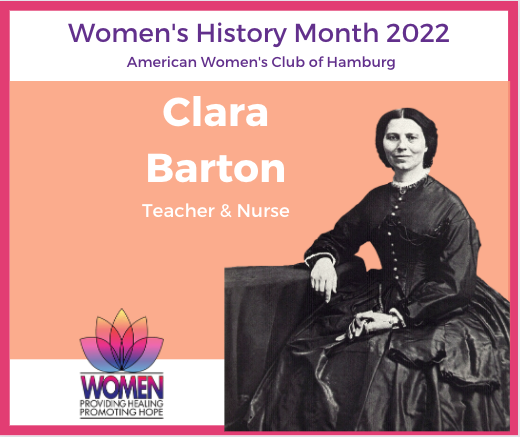 Clara Barton (1821–1912)
Selected & written by Carol H.
Clara Barton was a teacher, a nurse, and founder of the American Red Cross. During the American Civil War, Clara Barton was pushed out of her comfort zone and into the battlefields to care for the wounded, where she became known as the "Angel of the Battlefield". Work in European battlefields introduced her to the International Committee of the Red Cross, leading her to campaign for its recognition in the United States. Thought unnecessary at the time, she argued that the Red Cross was in fact necessary not only in wartime, but anytime as the organization could therefore be prepared to respond to crises caused by natural disasters. Finally established in 1881, Clara Barton served as the first president of the American Red Cross.
For more information about Clara Barton, check out the following sources:
https://www.redcross.org/about-us/who-we-are/history/clara-barton.html
https://www.womenshistory.org/education-resources/biographies/clara-barton
https://www.history.com/topics/womens-history/clara-barton
Photo by Mathew Brady (1865)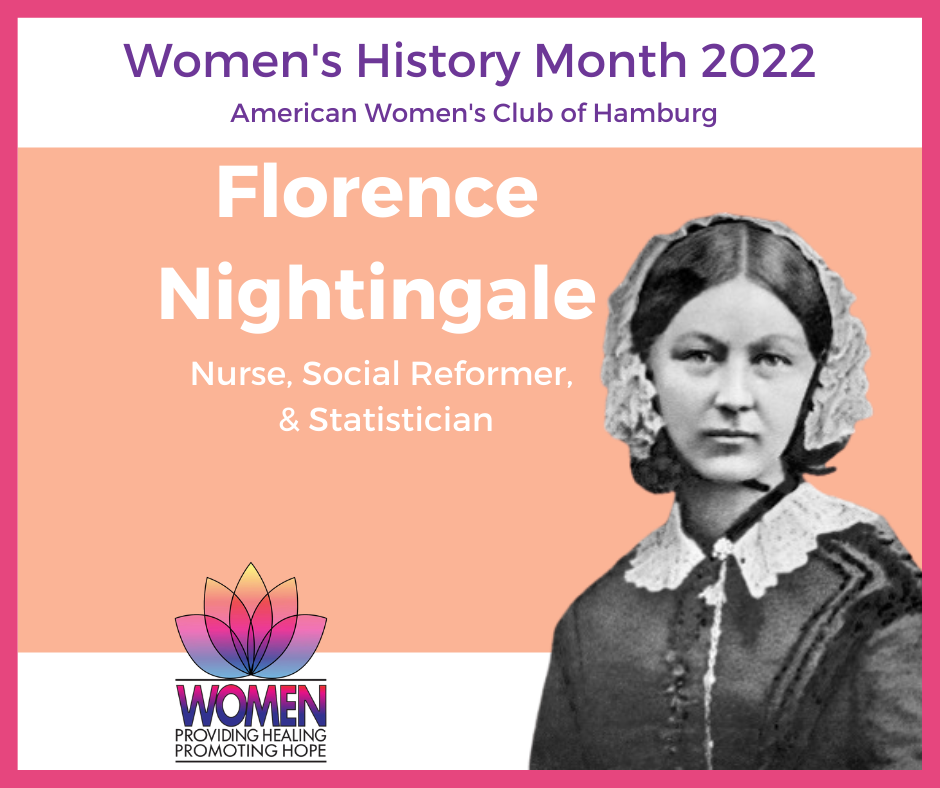 Florence Nightingale (1820–1910)
Selected & written by Brenda B.
As we think about the current challenges of unrest swirling around Crimea and the mitigation of suffering from viruses, let's take a moment to consider the extraordinary accomplishments of Florence Nightingale.
Florence was a British nurse, social reformer and statistician best known as the founder of modern nursing. Her experiences as a nurse during the Crimean War – where she helped wounded soldiers who were dying of cholera and typhoid in squalid hospital wards – formed her views about sanitation.
Florence's parents were wealthy English landowners. Though young ladies of her social stature did not usually have formal schooling, her father believed that women should be educated, and he tutored his daughters at home.
Florence was expected to marry a man of means, not take a job that was viewed as menial. Yet she knew she was destined to be a reformer: at 17, she refused a marriage proposal, saying she had "a moral and active nature which requires satisfaction that I would not find in his life." In 1844, Florence enrolled as a nursing student in Kaiserswerth, Germany. She later returned to England to take an (unpaid) position as superintendent of London's Establishment for Gentlewomen During Temporary Illness (now Nightingale Hospital).
Meanwhile, Czar Nicholas I of Russia was attempting to expand his influence over the Middle East and the eastern Mediterranean. The British and French were determined to stop him. The Crimean War (1853–56) claimed an estimated 650,000 lives and pitted Britain, France, Turkey and Sardinia against Russia.
Florence and 38 nurses were recruited for service in the British camp outside Constantinople. There, she developed statistical models which led to improvements in medical and surgical practices. The nurses brought cleanliness, nutritious food and comfort to the patients, and within six months, the death rate fell from 40% to 2%.
Florence returned home a heroine in 1857. A number of organizations that she founded or inspired are still doing good work. The Florence Nightingale Foundation has provided scholarships to the best nurses and midwives in the UK since 1929. And there is a hospital named after her in Düsseldorf: Florence-Nightingale-Krankenhaus.
The Nightingale Pledge is still taken by nursing school graduates. It concludes: "May my life be devoted to service and to the high ideals of the nursing profession." If anyone was a provider of healing and a promoter of hope, it was Florence Nightingale. Her legacy has never been more relevant than it is today.
Mary Seacole (1805–1881)
Selected & written by Hilary W.
Mary Seacole was born in Jamaica, the daughter of a Scottish Lieutenant and a West African 'doctress'. Mary's mother, who used traditional herbal medicine from West Africa and the Caribbean, ran a hotel in Kingston. The hotel also served as a convalescent hospital for soldiers recovering from cholera and yellow fever, and Mary was already helping care of patients in her mother's hotel by the time she was 12. Because of her family's ties to the military, Mary was able to closely watch military doctors and incorporate their techniques with the more traditional approaches she learned from her mother. As well as tending to sick soldiers, she became a skilled midwife. At a time when neo-natal deaths accounted for 25% of all childbirths, Mary could boast that she never lost a mother or a child.
Mary had a thirst for adventure as well as a healing touch and compassionate nature. She traveled all over the Caribbean learning more about local medicine practices, and she helped local doctors during a cholera epidemic in Panama. Proud of her creole heritage and confident in her skills, she refused to let racism or sexism stand in her way. When the Crimean War broke out in 1853, she traveled to London to ask the British Army if they needed help on the battlefront. Her help was refused by everyone, including Florence Nightingale herself. Mary was undeterred and went to the Crimea on her own. She opened the British Hotel as a convalescent hospital for recovering soldiers. It was built with her own money out of driftwood, metal packing cases and salvaged windows and doors. She not only ran the hospital, tended the sick and cooked as needed, but she also traveled to the front lines to care for wounded soldiers on both sides of the conflict.
Mary Seacole had an indomitable spirit and a genuine desire to cure the sick. In 1857 she wrote a best-selling book about her life called Wonderful Adventures of Mrs. Seacole in Many Lands, but after her death, she faded quickly from collective memory. Salman Rushdie wrote about her as one of history's hidden figures in The Satanic Verses: "See, here is Mary Seacole, who did as much in the Crimea as another magic-lamping lady, but, being dark, could scarce be seen for the flame of Florence's candle." In recent years, Mary's legacy has been rediscovered. She is now taught in the British curriculum alongside Nightingale, and she was voted first place in an online poll of greatest black Britons in 2004.
To read more about Mary Seacole, check out the following sources:
https://www.maryseacoletrust.org.uk/learn-about-mary/#
https://www.bbc.co.uk/history/historic_figures/seacole_mary.shtml
https://www.nationalgeographic.org/article/mary-seacole/ationalgeographic.org/article/mary-seacole/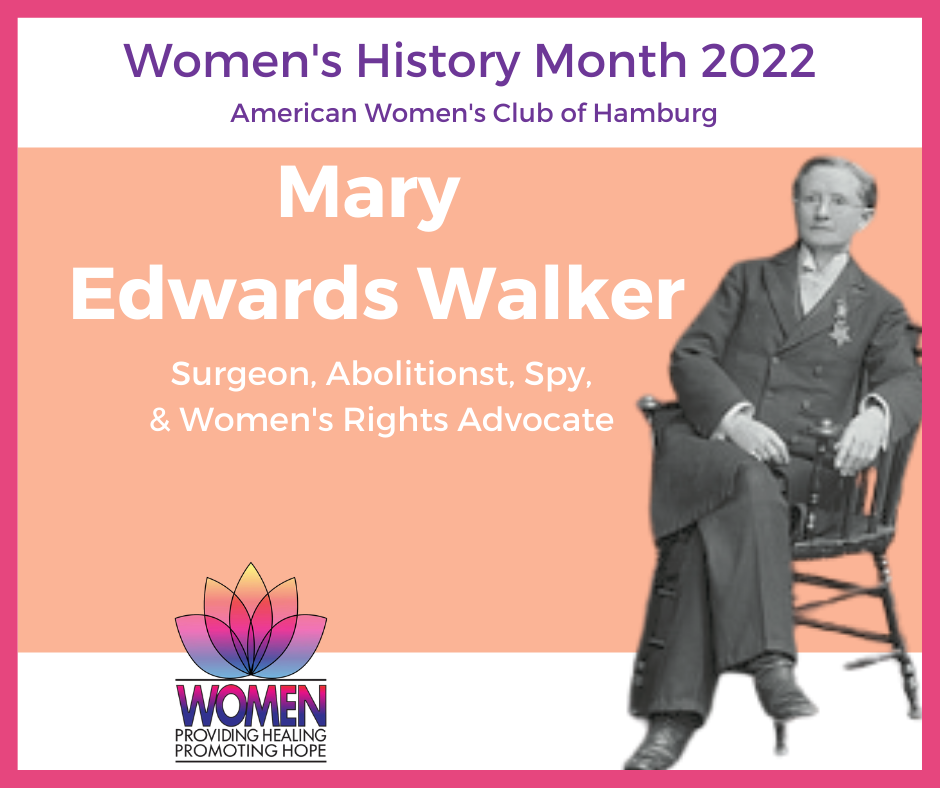 Mary Edwards Walker (1832–1919)
Selected and Written by Nutmeg W.
"You (men) are not our protectors… If you were, who would there be to protect us from freedom?"
"Let the generations know that women in uniform also guaranteed their freedom."
Mary Edwards Walker was always independent. She did not like wearing the tight-laced corsets and petticoats like other girls in her time. Her parents supported her thoughts about clothes. Her father worked as a country doctor and Mary also wanted to be a doctor when she grew up. Her dreams came true and she graduated as one of the first female doctors in the U.S. Mary wore trousers and a coat to her wedding with another doctor, but she was arrested a few times because she was wearing men's clothes. In the Civil War, she saved many lives. After the war she even won a medal (the Congressional Medal of Honor). She was very proud of the medal and she had every right to be! She is still the only woman who has ever won it. She died on February 21, 1919, but we still remember her as a great doctor who saved many lives.
For more information about Mary Edwards Walker, check out the following sources:
https://www.womenshistory.org/education-resources/biographies/mary-edwards-walker
https://www.nps.gov/people/mary-walker.htm
https://www.britannica.com/biography/Mary-Edwards-Walker
Janet D. Rowley (1925–2013)
Selected and written by Carol H.
Janet Rowley was a medical doctor and geneticist, and was the first person to discover the importance of specific and recurrent chromosomal abnormalities in cancer. Her observation of a typical "Philadelphia" chromosome, which leads to the fusion of two genes, in specific types of leukemic blood cells was pivotal to the development of the first drugs that can cure specific types of cancers. Rowley was the recipient of many awards for her life-long work in the field of human genetics, including the Presidential Medal of Freedom in 2009. She was truly an inspiration for me and other women scientists.
For more information about Janet Rowley, check out the following sources
https://news.uchicago.edu/story/janet-rowley-cancer-genetics-pioneer-1925-2013
https://cfmedicine.nlm.nih.gov/physicians/biography_282.html
https://www.nature.com/articles/505484a

Photo courtesy of Wilsede Science Connection.
Ganga Stone (1941–2021)
Selected & written by Diana P.S.
"If you give food to a hungry person, you're giving your love in the form of something that can be used right away by that person."
In 1985, at the height of the AIDS epidemic in the U.S., Ganga Stone founded a charitable organization in New York City to bring free, nutritious, homemade meals to people who were homebound and too ill to shop or prepare food for themselves. In the earliest days, Ganga mostly brought food to gay men who were suffering from a disease that was misunderstood and feared, leading to many vulnerable men suffering in shunned isolation. Ganga and her roommate and co-founder, Jane Best, prepared meals in their small apartment. As news of their service spread, Ganga started enlisting restaurants to donate meals, and she travelled on her bicycle all over NYC delivering food. Ganga was also delivering compassion, companionship, and dignity.
As the AIDS crisis worsened, the organization grew and began to receive support and funding from a variety of religious organizations and government agencies, and offered numerous volunteer opportunities for many people who wanted to help. (This is how I know about the organization, as I volunteered in their kitchen in the '90s.) God's Love We Deliver is still going strong more than 30 years later. They cook and deliver more than 2.5 million meals a year, helping to improve the well-being of men, women and children living with HIV/AIDS, cancer, and other serious illnesses by alleviating hunger, and everything they do is free for those who receive their services. Ganga continued to support its mission until her death last year.
For more information about self-described radical feminist Ganga Stone:
https://www.glwd.org/about-us/remembering-our-founder-ganga-stone/
https://www.nytimes.com/2021/06/04/nyregion/ganga-stone-dead.html
https://www.economist.com/obituary/2021/06/10/ganga-stone-died-on-june-2nd
Harriet Tubman (c. 1820–1913)
Selected and written by Julian W.
"I was the conductor of the Underground Railroad for eight years, and I can say what most conductors can't say - I never ran my train off the track and I never lost a passenger."
I'm sure everyone knows the name Harriet Tubman. She was a former slave, a conductor in the underground railroad, and she will soon become the face on the $20 bill.
By leading so many slaves to freedom, she definitely brought hope. What many people don't know is that she was also a scout, a guerilla fighter, the first woman to lead a combat assault in the Civil War AND a nurse. As a nurse, she worked in the special hospital set up for Black soldiers in Port Royal, S.C. There she tended to the wounded and cared for the sick. When dysentery became a problem at the hospital, she remembered her mother's herbal home remedy. She collected water lilies and crane's bill in the woods near the hospital to make a strong brew. One man who was dying of dysentery was cured by her homemade medicine. This became known as yet another of Tubman's miracles and it was said that if she was by your bedside you wouldn't die.
There are many monuments, books, and movies dedicated to Tubman and her work. She was an amazingly brave and selfless person, so let's try to be brave and selfless too. History has its eyes on you.
For more information about Harriet Tubman, check out the following sources:
https://www.womenshistory.org/education-resources/biographies/harriet-tubman
https://www.biography.com/activist/harriet-tubman
https://www.nps.gov/people/harriet-tubman.htm
Dr. Siouxsie Wiles
Selected and written by Michaela A.
As of writing, New Zealand has had a grand total of 60 coronavirus deaths, since the pandemic began. 60. This is due in large part to NZ's geography, and also to the exceptional management of its prime minister, Jacinda Ardern.
Another woman has really helped that effort – Dr. Siouxsie Wiles, aka "that pink haired science lady." Dr. Wiles is a household name in NZ. She has a PhD in microbiology, unmissable bright pink hair and a gift for explaining complex information clearly. Throughout the pandemic she appeared regularly on radio and TV, and on her own social media, educating New Zealanders on the evolving crisis with her trademark clear, calm communication. She helped bring the country together as "the team of five million" to face lockdowns and border closes, and dispelled myths and falsehoods being spread online – and this was all on top of her day job as a microbiologist.
Together with an illustrator, Dr. Wiles authored a series of simple comics, explaining concepts like "Flattening the Curve," that went viral around the world and were ultimately picked up by the WHO. She is still working with the organisation today.
Dr. Wiles is, perhaps, New Zealand's Dr. Fauci, and, like him, she has faced a torrent of hatred and online bullying. In spite of this, she persists. In 2021 she was awarded the prestigious New Zealander of the Year award.
For more information about Siouxsie Wiles:
https://unidirectory.auckland.ac.nz/profile/s-wiles
https://www.theguardian.com/world/2021/apr/01/siouxsie-wiles-named-new-zealander-of-the-year
Photo courtesy of: New Zealand Government, Office of the Governor-General
Margaret Sanger (1879–1966)
Selected and written by Carol H.
Margaret Sanger was a nurse and a social reformer who recognized the need for women to have access to effective birth control. Initially driven by the need to save working women from life-threatening abortions, Sanger later saw its importance in keeping marriages happy. She was arrested and imprisoned for advocating for the use of contraceptives. Yet she continued unwavering to fight political and social barriers, increasing awareness of the issue. In 1916 Sanger opened a clinic in Brooklyn, which laid the foundation for Planned Parenthood, today the largest single provider of reproductive health services in the U.S.
For more information about Margaret Sanger, check out the following sources:
https://sanger.hosting.nyu.edu/aboutms/msbio/
https://www.pbs.org/wgbh/americanexperience/features/pill-margaret-sanger-1879-1966/
https://www.womenshistory.org/education-resources/biographies/margaret-sanger
Molly Champion Lonergan
Selected and written by Sara Naumann
Throughout the Covid pandemic, we've heard a lot about the sacrifice and hard work being done by front-line workers. My niece, Molly Champion Lonergan, is one of those people—she's a nurse at an Oregon hospital. It's amazing to me that as Covid forced us all to confront an entirely new level of threat to our health, people—many young women, like Molly, fresh out of nursing school—rose to this unprecedented challenge. I have no doubt the Covid pandemic will go down in history, and I hope those who worked so hard to fight it will be remembered for their invaluable work.
In Molly's words:
I have only been a nurse for 2.5 years, all in a rural hospital in Eastern Oregon, working between the medical/surgical floor, critical care, and the emergency department. It's hard to think this pandemic has dragged on this long. Healthcare workers have been through a hard time just like the rest of the world, just in a different way. It's all perspective.
Healthcare workers are thanked and called "heroes" but most of the time we are just doing our job. My perspective is I took an oath to care for sick people; if that means they didn't take a vaccine or had the misfortune of being exposed, then that is my job to care for them that shift. Yes, sometimes I got frustrated that this could have been prevented but I have to honor people's decisions. I remember at the height of the Delta variant I became very discouraged, I felt like everything that we did to help people wasn't working. How did I get over it? Ha! I went to a University of Oregon football game (I screamed a lot- lost my voice for a week), but at least I was just considered an overzealous Duck fan rather than an overstressed healthcare worker (yes, I was fully vaccinated, so was everyone else, and masked).
I have high hopes this will end soon and we can start to figure out what the "new normal" will be!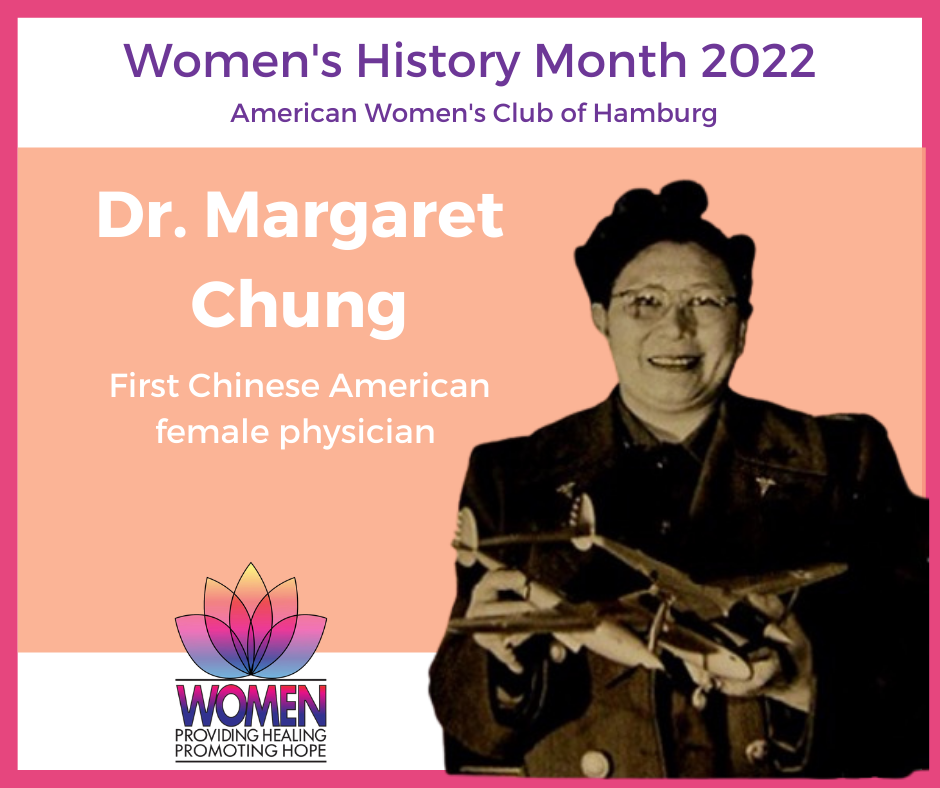 Dr. Margaret "Mom" Chung (1889–1959)
Selected & written by Diana P.S.
Chung was the first American-born Chinese female doctor. Born in California in 1889 to parents who had immigrated from China as children, Margaret was the oldest of eleven children. She worked her way through medical school at the University of Southern California, where she was the only woman and person of color in her class. After graduation, Margaret applied to be a medical missionary to China, but was rejected because of her race. She worked as a surgeon in Los Angeles, which was extremely unusual for a woman at the time, and started a private practice treating entertainers in Hollywood, where she became a well-known "physician to the stars". In the early 1920s, Margaret founded the first Western hospital in San Francisco's Chinatown, and led its obstetrics and pediatrics unit. During WWII, she became known for her huge network of "adopted sons", most of them American soldiers who called her "Mom". Margaret used her influence to lobby for the creation of WAVES, Women Accepted for Volunteer Emergency Services, the women's branch of the naval reserves during the war, which helped pave the way for women's integration into the U.S. armed forces. Margaret was rejected from serving in WAVES herself, likely because of her race and rumors about her sexuality.
Read more about this fascinating woman, who tirelessly pushed for progress and for outsiders to be accepted:
https://www.pbs.org/wnet/americanmasters/first-american-born-chinese-woman-doctor-ysk233/14464/
https://www.nps.gov/people/dr-margaret-mom-chung.htm
https://unladylike2020.com/profile/margaret-chung/