Details

Last Updated on Monday, 05 April 2021 15:52

1/2
USA 2020
Opening October 22, 2020
Directed by: Miranda July
Writing credits: Miranda July
Principal actors: Evan Rachel Wood, Gina Rodriguez, Richard Jenkins, Debra Winger, Mark Ivanir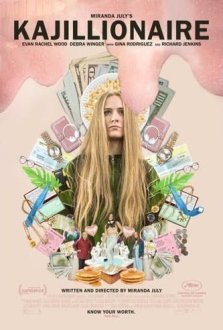 This is not your typical dysfunctional family, it's atypical since all their waking hours are spent together. By necessity, considering their livelihood is hinged on swindles, coupons, and thievery. With twenty-six years practice, some days are better than others, particularly days without tremors. Thomas/dad (Richard Jenkins) is upbeat (controller) – the thinker, Theresa/mom (Debra Winger) is complacently steady, and Old Dolio/daughter (Evan Rachel Wood) is rather reticent, but mindful. Whereas the parents bend forward, she bends backward dodging landlord Stovik (Mark Ivanir). Currently, their conveniently located abode at Bubbles, Inc. is plenty in arrears. During a con, Thomas and Theresa meet and immediately click with Melanie (Gina Rodriguez), inviting her to join their fun. She does, much to Old Dolio's chagrin, especially when Melanie's idea is acted upon. Subsequently, Melanie starts to "get" Old Dolio's guardedness, and just how much her parents' dealings deviate from the conventional; Melanie wants to help. But the stakes are high, and the clock is running.
Screenwriter-director Miranda July's third feature has a number of things going for it: its strong cast, good production values, and music. However, her script's snags keep interrupting the film's fluidity, and occur at most inopportune points during the film, e.g., when O.D. sits in on Kellie's (Rachel Redleaf) class, Melanie and O.D. after the "big one," etcetera. It is unclear why July directed Wood's character to be so stilted, and use that voice, although Jenkins and Rodriguez are especially good. Sebastian Winterø Cinematography, Jennifer Vecchiarello Editing, Sam Lisenco Production Design, Devynne Lauchner Set Decoration, and Emile Mosseri's Music add to the film.
Kajillionaire's basic storyline is wacky, yet believable enough to have produced worthier cinematic entertainment, instead of this uninspired version that slowly lumbers through to the finish. Albeit, you do have to wonder what old Dolio's position in relation to the family actually was. 104 minutes (Marinell H.)

Old Dolio (Evan Rachel Wood) is named after a homeless man who won the lottery. She lives with her parents Theresa (Debra Winger) and Robert (Richard Jenkins) in an industrial building where they must regularly use trash cans to catch suds seeping through the ceiling. They are avoiding their landlord since they are way behind on rent. They are all artists – con, that is, and a family that is dysfunctional to the extreme. Old Dolio steals mail from postal boxes. The family flies to New York on free tickets just to lose luggage so they can collect on travel insurance. On the flight they meet Melanie (Gina Rodriquez), a wannabe scammer. Melanie has a real job and a mom who sounds nice but for some inexplicable reason is thrilled to be taken into the bosom of the con family. Perhaps Melanie finds Old Dolio attractive. Maybe Theresa and Robert find Melanie attractive. Sitting together in an empty hot tub in the store they warm to each other. Earthquake tremors intermittently shake things up. As another tremor hits, Robert opines, "If you're lucky you'll get crushed and then just die…" Not lucky I sat through the entire film unmoved. Not funny to me, it was just a stupid con.