Details

Last Updated on Thursday, 02 January 2020 23:01

|
USA 2019
Opening January 2, 2020

Directed by: Stanley Nelson
Writing credits: Documentary
Principal actors: Carl Lumbly (Voice), Miles Davis, Quincy Jones, Ron Carter, Carlos Santana, Herbie Hancock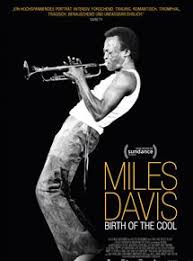 "Living is an adventure, and a challenge. … If anyone wants to be creative, they have to change." Director Stanley Nelson opens his "cradle to grave" documentary in the game-changing musician's own words spoken by Carl Lumbly, whose raspy voice uncannily resembles Davis.' The film is structured around key points in Miles' life, which often correlated with historical milestones. Born into a wealthy Alton, Illinois household in 1926, the family moved to East St. Louis—the Mississippi River separates it from St. Louis, Missouri—where young Miles felt surrounded by "hicks" and experienced the sting of racism. At 16 he received a trumpet – the cause of yet another row between his battling parents; at 18 he was incredibly lucky to play with jazz greats Dizzy Gillespie and "the Bird" Charlie Parker. In 1944, the "musical noise called jazz" was being discovered by mainstream America, and Miles Davis was there. Already a breakout star at home, he took Paris by storm in 1949 embracing the nonracial mindset, as well as actress Juliette Gréco. Davis did things his way, played by his rules, and succeeded. Along the road of jazz evolution, Miles irrevocably created stylistic pinnacles from the 1950s until death in 1991.
Director Nelson, working with three editors (Lewis Erskine, Yusuf Kapadia and Natasha Mottola) has assembled a respectable, if not overambitious, overview of a complicated, contradictory, cruel, yet proud, pioneering and passionate man. An impressive amount of archival material, including home movies and Miles' artwork, are shown; sequences portray studio sessions and personal events, while photograph montages track stage performances. Nelson's lined up an incredible number of friends, girlfriends and ex-wives, family, collaborators, musicians, historians … all these talking heads poking, prodding and dissecting every aspect of Miles, albeit not effectively coherent. His parents' abusive relationship was replicated in Davis' relationships, and substance addictions had debilitating physical, and personality effects. At Miles' core, though, that horn was his lifeline: dedicated to music and its craft, Davis' integrity was in passing knowledge on and including younger generations as he transformed jazz.
Epitomizing the meaning of cool, the legendary jazz trumpeter's repertoire was cool jazz, orchestral jazz and jazz fusion, rock and roll, modern quintets, hard-bop, post-bop and scoring films; he introduced Herbie Hancock, Ron Carter, and Tony Williams, and Kind of Blue (1959) remains one of the most popular jazz albums ever. If only Miles Davis: Birth Of The Cool had filled its length more with music, it would have left a better impression. 115 minutes (Marinell H.)
Ferrari. Impeccable suits. Designer glasses. Gorgeous muses. Trumpet. Miles Davis was not only the father to the birth of cool jazz, he was the brother of cool himself, creating music and a persona that would influence generations. This documentary of his life, that is, at times narrated by him from archival recordings and by friends and colleagues in interviews, provides a very personal insight into a truly enigmatic, legendary jazz musician known around the world for his distinctive sound. A true master of improvisation, some of his most famous tunes were created in an atmosphere of camaraderie, where musicians came together with just a melody in mind that through the freedom and love of jazz resulted in some of the most unique and creative jazz albums of all time. His remarkable life journey is chronicled in performance videos, photographs and interviews with his most intimate relations. This documentary is an outstanding biography of Miles Davis, and an introduction to many other great jazz musicians, past and present, who, through reflecting upon Miles as a person and influential musician, provide an unforgettable story that is just too cool to miss!