Details

Last Updated on Thursday, 27 March 2014 20:51

Canada | Germany 2014
Starts February 27
Directed by
: Paul W.S. Anderson
Writing credits
: Janet Scott Batchler, Lee Batchler, Michael Robert Johnson
Cast
: Kit Harington, Emily Browning, Kiefer Sutherland
Length
: 105 minutes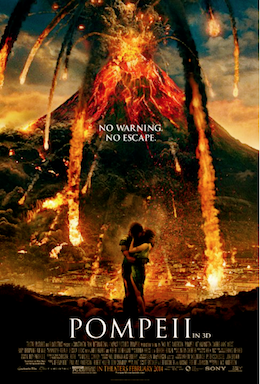 The plot of the movie is easily retold:
Titanic
meets
The Gladiator
, with a dash of
Deep Impact
at the end. Just like Rose's sweet, short love affair with Jack on the Titanic, Pompeii's lovers, the slave Milo (Harington) and the wealthy Cassia (Browning), find themselves confronted with the obstacle of class differences, which only the tragic end of a catastrophe may solve. Leaving the cinema I felt like I had seen this movie many times before. A couple of hot, half-naked men fighting to the death might have spiced the story up a little, but I was still waiting throughout the whole movie for Russell Crowe to finally appear to end this whole thing, only to realize the Gladiator wouldn't come; wrong movie. The natural catastrophe of Vesuvius' eruption does have its appeal, as the movie is in 3D, which, however, proves to be unnecessary in approximately two thirds of the movie. The 3D effects are really impressive when the Tsunami floods the city, fire is raining down from the sky and giant flying rocks destroy all that is left of Pompeii.
Nevertheless, I recommend this movie to sweet young lovers who have just started dating. She can cuddle up at his shoulder disgusted by the old geezer(Sutherland) who wants to force the beautiful Cassia into marrying him, and drool over all the hot gladiator bodies, while her cute date dreams of being as cool and strong as the hunky slave Milo. (
Karen M.
)