Details:
Experience Van Gogh in a new dimension!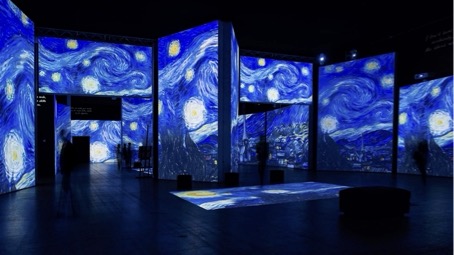 Registration is CLOSED! If you are interested in attending this event or want to cancel, please contact Carol H at pres@awchamburg.org.
Van Gogh Alive has come to Hamburg! The AWCH Art Group invites you to immerse yourself in van Gogh's intense color and light with music and even the aromas of southern France in this multimedia exhibition. For more information about the exhibition see here.
For those hungry for a more critical and complete take on van Gogh's biography to augment the tour, AWCH member Pat N. recommends reading Van Gogh: The Life by Stephen Naifeh and Gregory White, and watching the 2018 film At Eternity's Gate with Willem Dafoe.
Our visit to the exhibition will be followed by an optional pizza/salad lunch at Eisenstein in the former ship propeller factory, which now also houses Zeise-Kino (Friedensallee 9 – on way back toward station).
Limited to 15 participants; open to all members. If there is still capacity a week before the event, guests welcome, too.
Cost: 17€ p.P. for an adult group ticket (normal price 25€)
Payment: Money should be transferred at the time of registration to the AWCH bank account (IBAN: DE75 2069 0500 0000 9117 71) with the reference "Van Gogh Alive".
CANCELLATION POLICY: You have until Wednesday, May 4 to cancel your attendance without being charged. After this date, or in the event of a no show, you will still be required to pay the full amount unless a substitute is found.
By attending this AWCH event, there is a possibility that you will appear in group photos used on our digital channels and/or in our printed material. If you have any questions or concerns regarding this, please let the event organizer know ahead of time.