Details: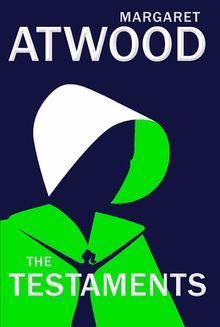 Book Club - The Testaments by Margaret Atwood
The book we have chosen for October's book club will be the newly released Margaret Atwood book, The Testaments, just released on the 10th of this month. Our book club has previously read the prequel to this book, The Handmaid's Tale, and we are very excited to continue on with her newest novel.

The Testaments is a 2019 novel by Margaret Atwood. A sequel to her The Handmaid's Tale (1985), the novel takes place 15 years after Offred's final scene in the original novel, and is narrated by three female characters: Aunt Lydia, a key character in The Handmaid's Tale; Agnes, a young woman living in Gilead; and Daisy, a young woman in Canada who is horrified by Gilead's abuses of human rights.
The younger women are Offred's two daughters; Agnes, who was adopted by a Gileadan family after being captured and taken from Offred, is being prepared for her assigned role as the future wife of a commander, while Daisy, who was smuggled out of Gilead, was placed for adoption with a couple who owned a used clothing store in the Queen Street West neighborhood of Toronto, and was raised without knowledge of either the truth of her origins or the existence of her sister. - Wikipedia
Serena Davies of The Daily Telegraph described The Testaments as "a lurid and powerful sequel," writing that "Atwood has given us a blockbuster of propulsive, almost breathless narrative, stacked with twists and turns worthy of a Gothic novel."
You are currently viewing a summary of this event as a website guest.  Members, please log in to see details such as location and contact/RSVP information.
If you are a potential member and would like to attend this event as a guest, please contact the Membership Chair at membership@awchamburg.org or by using this contact form.